More info
Product Description
Philips Avent natural feeding bottle helps to make bottle feeding more natural for your baby and you. The nipple features an innovative petal design for natural latch on similar to the breast, making it easy for your baby to combine breast and bottle feeding.
Technical specifications
Bottle

Capacity: 9oz / 260ml

Material: BPA free*

Development stages

Stages: 0 - 12 Months

Functions

Nipple

Advanced anti-colic system
Natural latch on
Extra soft and flexible nipple
Unique comfort petals

Latch on: Easy combine breast and bottle

Ease of use: Easy to clean and assemble

What is included

Baby Bottle x 2  pieces
Natural latch on due to the wide breast shaped nipple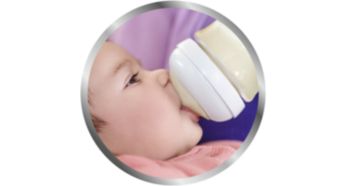 The wide breast shaped nipple promotes natural latch on similar to the breast, making it easy for your baby to combine breast and bottle feeding.
Unique Petals for a soft, flexible nipple without collapse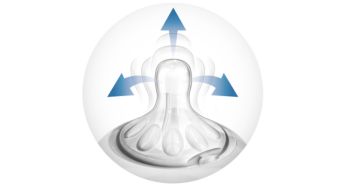 Petals inside the nipple increase softness and flexibility without nipple collapse. Your baby will enjoy a more comfortable and contented feed.
Advanced anti-colic system with innovative twin valve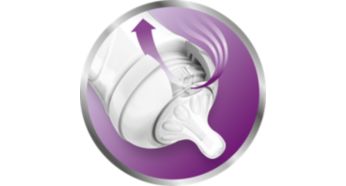 Innovative twin valve designed to reduce colic and discomfort by venting air into the bottle and not baby's tummy.
Ergonomic shape for maximum comfort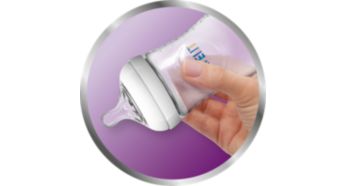 Due to the unique shape, the bottle is easy to hold and grip in any direction for maximum comfort, even for baby's tiny hands.
Simple to use and clean, quick and easy assembly
Wide bottle neck makes filling and cleaning easy. Only a few parts for quick and simple assembly.
This bottle is BPA free*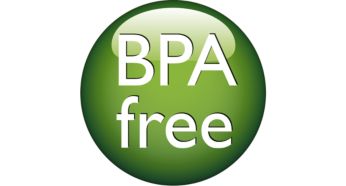 The Philips Avent Natural bottle is made of BPA free* material (polypropylene).
Trusted by moms since 1984
Since 1984, Philips Avent has been designing and manufacturing products that are inspired by nature and have been developed through extensive research and clinical trials.
Compatible with Philips Avent range
The Philips Avent Natural bottle is compatible with the Philips Avent range, excluding Classic bottles and cup handles. We advise to use the Natural bottles with Natural feeding nipples only.
Available in different sizes
The Philips Avent Natural bottle is available in 4 sizes: 2oz/60ml, 4oz/125ml, 9oz/260ml and 11oz/330ml. Bottles are available in single and multi packs.
....................................................................................................................................................................................................
Feed your baby easily with Philips Avent Natural Bottle. With advanced anti colic system, this anti colic bottle is designed in order to help your baby feed in comfort. Not only that, this baby bottle has a wide breast shaped nipple so that it's easier for your baby to latch on. It is also easy to use, and easy to clean for your convenience. In addition to being easy to grip, this bottle is also BPA free for your peace of mind. Shop now at Motherhood.com.my for baby products like this and more, with the best online deal and promotion.
Anda sekarang boleh menyuap bayi anda dengan lebih senang dengan Philips Avent Natural Bottle. Dengan ciri anti kolik, botol susu bayi ini direka khas untuk memastikan bayi anda boleh minum dengan selesa. Tambahan pula, puting botol ini direka khas untuk membantu bayi anda menyesuaikan diri dengan minum daripada botol. Botol bayi ini juga senang digunakan, dan dicuci. Botol ini juga senang dipegang, dan tidak mengandungi BPA. Beli produk ini atau barang baby lain di Motherhood.com.my sekarang untuk mendapat promosi yang terbaik online.