Dear expecting parents, Motherhood welcomes you to join our parentcraft online class to answer all mother-to-be questions and fears about the birth of your baby. 
Conducted by experienced consultants and specialists, Motherhood ParentCraft Online Class offers you a cheerful, interactive, and knowledgeable online class on how expecting parents can cope during the labour process and early parenthood. 
What will you learn?
Delivery process and procedures.
Changes in your body during and after pregnancy. 
Practical session on baby bathing. 
Baby and pregnancy nutrition.
First aid and baby CPR. 
and many more!

For more information, please visit https://www.motherhood.com.my/events/antenatal-class-malaysia
What you will receive from Motherhood Online Parentcraft Class 
Motherhood Online Parentcraft Class (more than 9 Topics covered)

Complimentary invitation to the bi-weekly webinar

One Year Membership

with free guidance from Motherhood Panel of Experts

Motherhood Online Parentcraft Class

Unlimited Replay

Complimentary advise

relating to pregnancy and baby

On-going tips and guidance throughout your pregnancy journey

Access to

Motherhood panel of experts

for guidance and advise
Ticket Purchase
Step 1: Add To Cart.
Step 2: Key in and apply your voucher code (if have any) then proceed to "Place Order".
Step 3: Your e-ticket will be processed and you can access it by clicking on the "My Coupons" tab at your "Account" section.
*1 ticket entitles to 2 logins for mommy and daddy
Steps to Join Online Class:
Register and fill up details in the form: https://forms.gle/WefYBs1TUfjVDDQF6

Click and Join the link: 

https://www.facebook.com/groups/onlineparentcraftclass/ 
Key in your order reference ID in the popup, refer to visual below.
Sit tight and we will approve your access within 2 working days.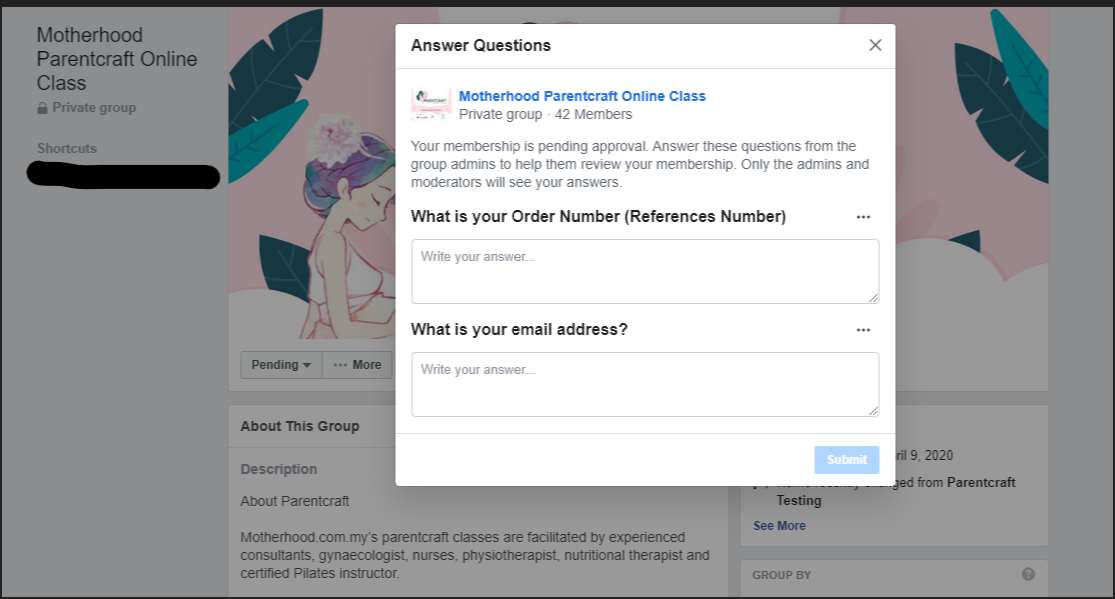 Look forward to seeing you online. Stay safe